| | |
| --- | --- |
| | |
Foretold: Seduction's Blade
Paranormal fantasy fiction for adults.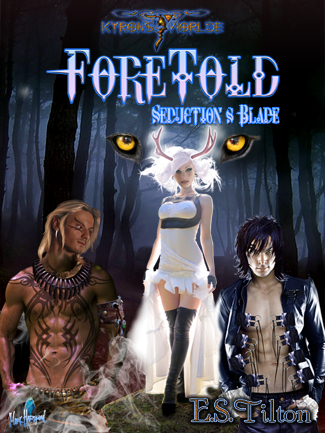 Book 2 in the Kyron's Worlde Foretold series.

As the bitter cold breath of winter closes in, the same genetic inbreeding that makes Kyra a steamy hot seductress guarantees Tahrek's death.

Despite the unexpected kinks thrown into her plans by Tahrek, the Assassin's Guild, and the Freni-Kyn Council, Kyra wants the same thing she's always wanted.

Freedom.

Freedom to do what she wants, go where she wants, be anyone she wants.

Freedom to roam.

For a Freni-Kyn, roaming includes the right to choose your sexual partner and discard them all within the space of a heartbeat. This is the social norm, especially for an exceptional illusionist like Kyra Atar. To choose any other path would make her an outcast. That the council sanctioned partner happens to be an obsessed serial killer adds to the complications assaulting her. But she didn't choose him. He chose her.

In a struggle to protect Kyra against overwhelming odds Tahrek finds himself forced into a servants role and a series of humiliating situations. Despite the danger to himself he is determined to remain her guard, especially when the roles are swapped and Kyra becomes the slave.





A Savory Sampling
To read samples from the Foretold series click below.

This novel is intended for mature audiences.

Download Foretold: Seduction's Blade Chapter 1



Kyrons Worlde...


...rich in word-imagery.

...a twisted reflection of reality.

Read the histories of the Rage Wars and other instances of time here.

Learn about the 7 warring races here.



E.S. Tilton


More about the author behind Kyron's Worlde: Foretold can be found here.






Jacket Cover Art


The wonderful cover art for Foretold and the Kyron's Worlde logo were created by award winning artist Karen Swaty. Samples of her digital art are also featured throughout this website. Many thanks Karen for all her help!

To visit Karen's Freni-Kyn Faire Shop and Photo Mod page click here.

For pictures of the fascinating process of transformation that Karen took the Foretold cover through click here.

K. Swaty is a resident of Kentucky and has recently started a new line of Tapestry Masterpieces. More about Karen and her awesome artwork can be found at her website. Click here.



Future Delights


What's coming for Kyron's Worlde?

Several more books that continue the story of Foretold are in the works. A book which explains Tahrek has been rough drafted and should be finished within the year. Another book about the Seven seers from the first Foretelling and several short stories are in planning stages.

Artistic renderings of the 7 Races and some of the half-breeds.

Time-line for the 'histories'.

Gaming stats for the 7 races.

Downloadable destop wallpaper.